-BKB Champ Bobby Gunn Will Run Facility.
-BKBHOF President Scott Burt Donates the Land.
-Fund-raising Campaign to be Launched.
Brand new, state-of-the-art as well as old-school training facilities for boxers will be built in Belfast, New York, according to a joint statement issued yesterday by bare-knuckle boxing world champion Bobby Gunn, Bare Knuckle Boxing Hall of Fame president Scott Burt, and Hall of Fame vice president in charge of training facility Joe Curcio. John L. Sullivan trained in Belfast for the last bare-knuckle championship fight before the modern era. Scott Burt converted the barns where he trained into the Hall of Fame, and Burt, Gunn, and Curcio decided the same benefits Belfast had as a training site then still hold true today.
Bobby Gunn had a dream for a training facility for bare-knuckle boxers and fell in love with Belfast while he trained there for his gloved bout versus Roy Jones Jr on February 17th. Scott Burt said yesterday he decided to help make that dream come true and is donating two pieces of land, one next to the two existing Hall of Fame barns and a larger tract just outside town. Joe Curcio will be in charge of supervising the development and construction. "I can't thank Joe Curcio and Scott Burt enough," Gunn said. "Thank you for the wonderful opportunity to build a state-of-the-art facility, not just for bare-knuckle boxing but for boxing and mixed martial arts fighters all over the world. There's no better place for a proper training camp."
Privacy was a big selling point in Sullivan's time and still is today. Belfast is a tiny village; the closest large city is Buffalo, which is 66 miles away. Gunn said fighters need a place where they can get away from it all and not be disturbed. Plus, Burt added, "The people of Belfast respect privacy." In addition, fighters who come to the area will have the opportunity to use either current, modern training methods or the same methods that got Sullivan in shape to win his epic battle against Jake Kilrain in 1889. Old-school training will include swinging indian clubs, blacksmithing, beating tires, chopping wood, and running the trails that Sullivan ran. But a large, brand new building will also house everything a fighter would want in a 21st-century gym.
There were originally three barns in Sullivan's training compound. So the third will be rebuilt on the plot of land next to the others and blend in with their styles. It will, however, have modern amenities. "What Scott is proposing is really in keeping with the spirit of the existing barns," said Curcio. This is where the "old-school, harsh and rigorous training" will take place. "But we also want to offer fighters everything you would want in a modern up-to-date facility." This would be the new building at the larger site. "The absolute best of both worlds," added Burt.
As if all this weren't enough, also housed in the rebuilt barn will be the boxing ring that was used by the Apollo Creed character in the film Rocky II. This item is already owned by the Hall of Fame. For the rest, including the new construction, Curcio announced a fund-raising effort will be launched that they hope will raise $1 million.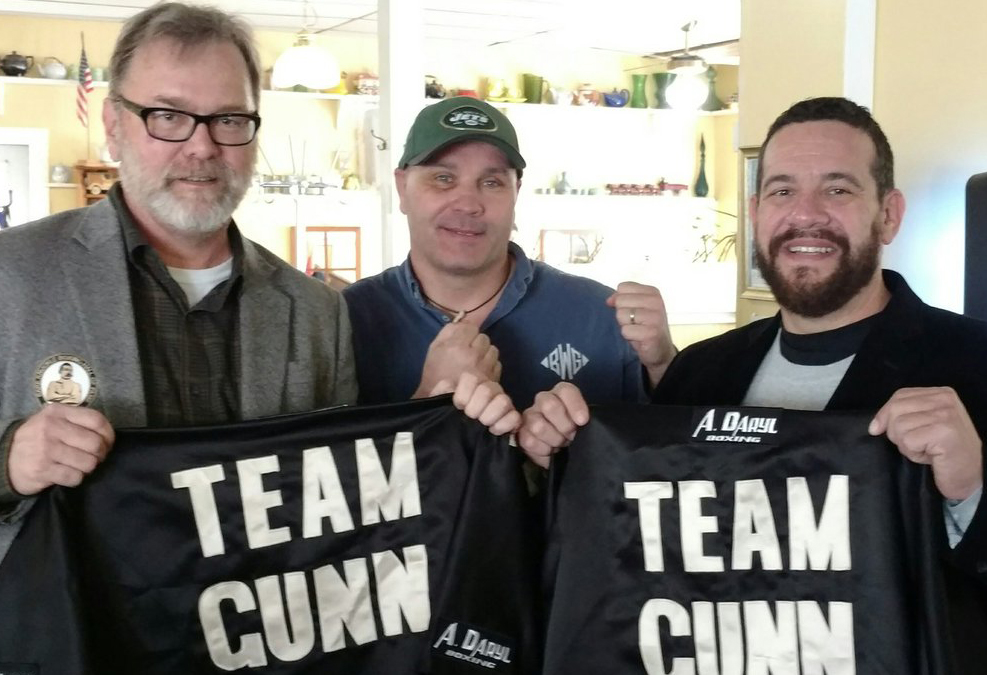 From left, Scott Burt, Bobby Gunn, and Joe Curcio.