Was Ali Given the Police Gazette Champion Belt in 1974?
In recent years when sports figures won the big event they'd proclaim "I'm going to Disneyland!" When Muhammad Ali beat George Foreman in the "Rumble in the Jungle" on October 30, 1974, to regain the world heavyweight championship, he must have said "I'm going to the Police Gazette!" Because right after his victory he sat down for an exclusive interview and photo shoot with Police Gazette bigs, including legendary Gazette editor Nat Perlow and Gazette publisher Joseph Azaria.
The feature appeared in the November 1974 issue and would be the last exclusive Ali would have with Police Gazette staff, as over the next two years the Gazette would begin to wind down and finally suspend publishing with the January 1977 issue. But Ali's willingness to share himself with the Gazette so soon after one of the greatest boxing events in history was no doubt a show of respect to the journal that put boxing on the map in the first place. Below is the first page of the article with the photo of Ali that was made public. Below that are outtakes from the same photo session.
But there's a bit of a mystery to solve as well. Police Gazette lore has it that around this time Muhammad Ali was also presented with the Police Gazette heavyweight champion belt. But we have been unable to conclusively verify whether this happened. Now, with Police Gazette championship belts once again entering boxing currency, it would be nice to know for sure if "The Greatest" ever got his—which he most definitely deserved.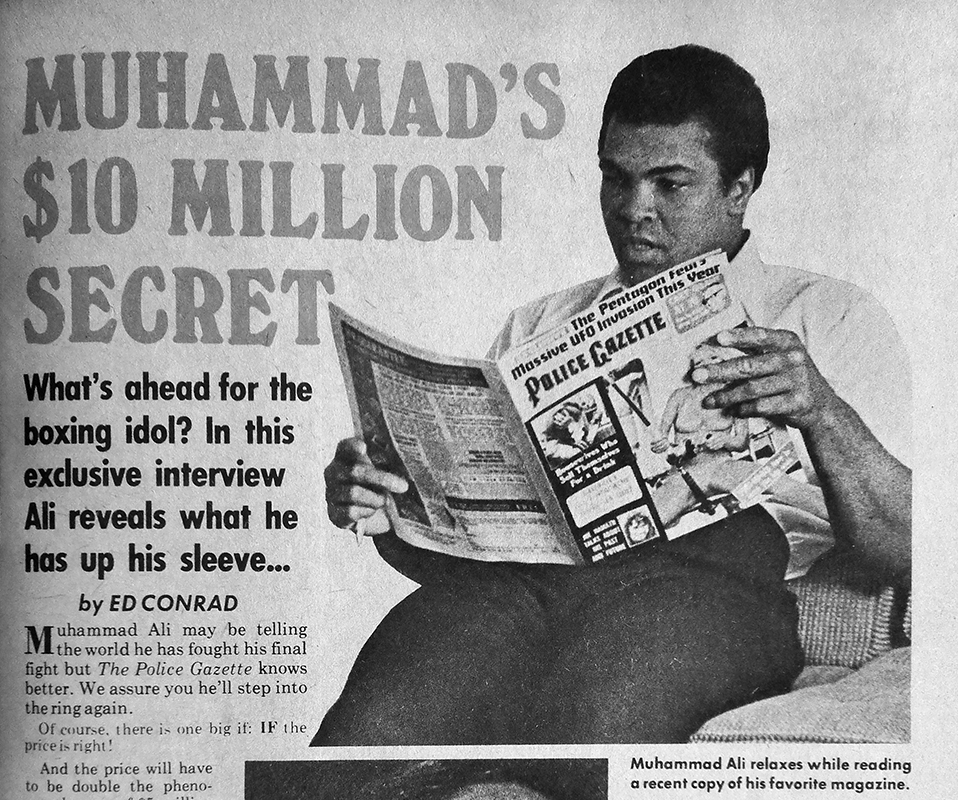 Muhammad Ali appears in the November 1974 Police Gazette. He is reading the August 1974 issue.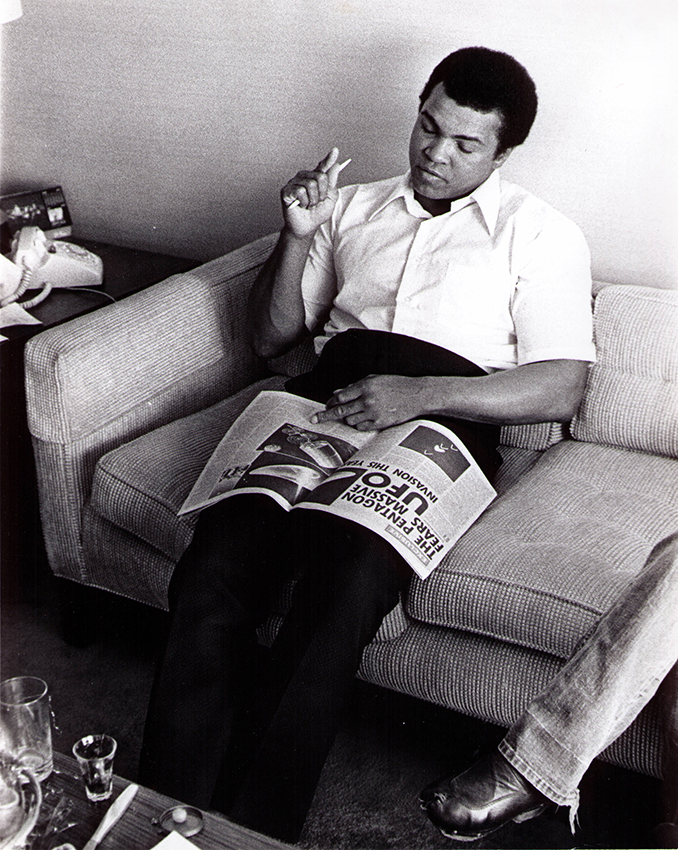 Photo-shoot outtake 1: Muhammad Ali reads the article about UFOs in the August 1974 issue. It's unknown whose leg is in the lower right, but it is known two of publisher Joseph Azaria's children accompanied the publisher and editor Nat Perlow during their meeting with Ali.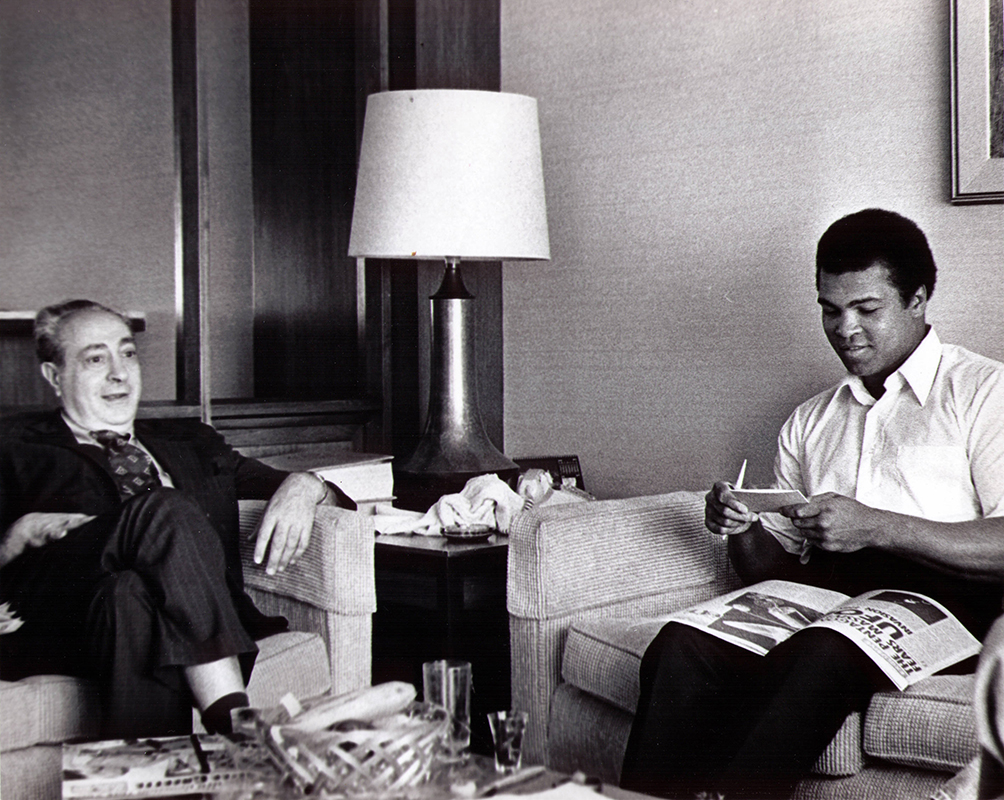 Photo-shoot outtake 2: Police Gazette editor Nat Perlow, left, and Muhammad Ali.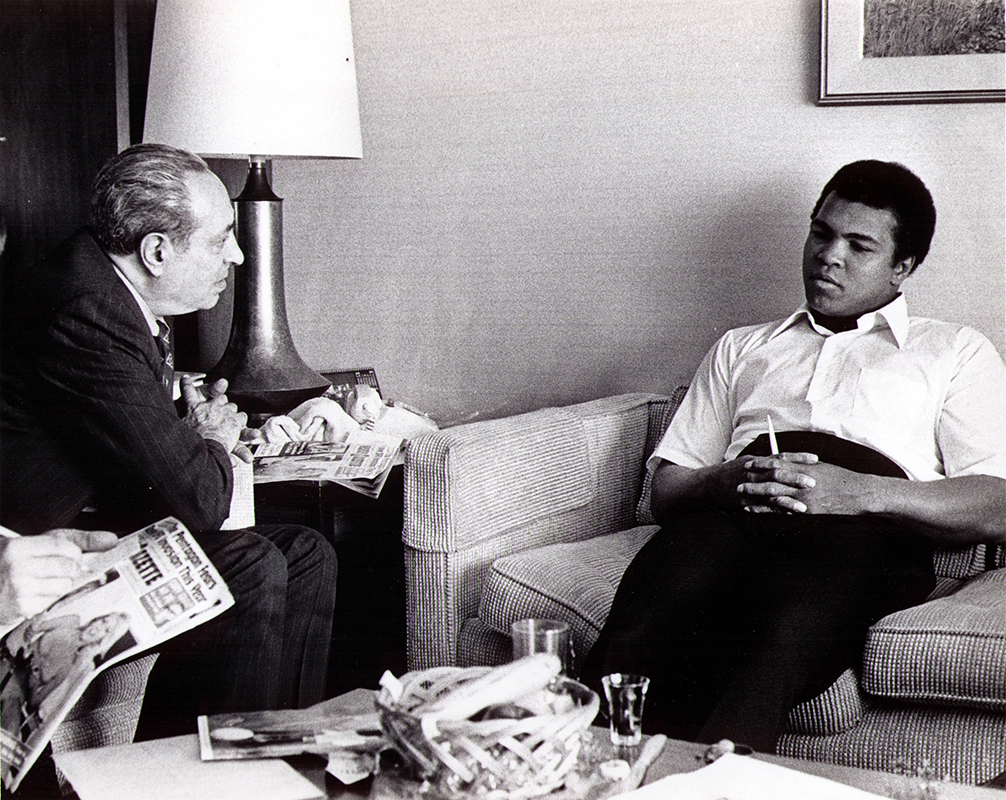 Photo-shoot outtake 3: Nat Perlow and Muhammad Ali. The hand holding the August 1974 issue at left may belong either to publisher Joseph Azaria or another staffer.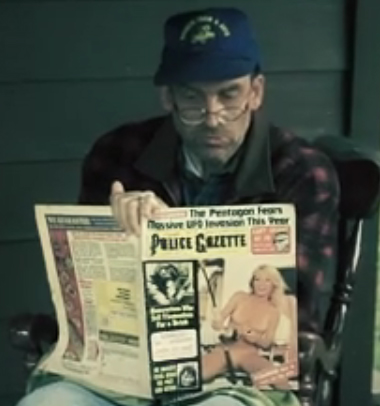 Current Police Gazette editor William A. Mays holds (coincidentally) the August 1974 issue in a scene from the new horror film House on Ghost Hill Road.